The mayor of the Ukrainian port city of Mariupol says more than 10,000 civilians have died in the Russian siege of his city – and he expects the death toll to keep growing.
Mayor Vadym Boychenko said that with bodies "carpeted through the streets", he predicted the eventual death toll could surpass 20,000.
In an earlier telephone interview with the Associated Press, Boychenko confirmed earlier reports that Russian forces had been using mobile cremation equipment to dispose of the city's bodies.
He said Russian forces had refused to allow humanitarian convoys into the city because they wanted to conceal the carnage.
The mayor's comments emerged as Russia claimed to have destroyed several Ukrainian air defense systems in what appeared to be a renewed push to gain air superiority ahead of a fresh offensive in the east.
Moscow's initial invasion stalled on several fronts as it met stiff resistance from Ukrainian forces. The failure to win full control of Ukraine's skies has hampered Moscow's ability to provide air cover for troops on the ground, limiting their advances and likely exposing them to greater losses.
With their offensive in many parts of the country thwarted, Russian forces have relied increasingly on bombing cities – a strategy that has killed thousands of people and led to accusations of war crimes.
Ukrainian authorities accuse Russian forces of committing atrocities, including a massacre in the town of Bucha, airstrikes on hospitals and a missile attack that killed at least 57 people at a train station.
In Bucha on Monday, the work of exhuming bodies from a mass grave in a churchyard resumed.
Galyna Feoktistova waited for hours in the cold and rain to identify her 50-year-old son, who was shot and killed more than a month ago. Eventually, she gave up and went home to get warm.
The UN children's agency said that nearly two-thirds of all Ukrainian children had fled their homes in the six weeks since the invasion began.
The United Nations has verified that 142 children have been killed and 229 injured, although the actual numbers are likely much higher.
Nehammer meets Putin
Elsewhere, Austrian Chancellor Karl Nehammer on Monday became the first European Union leader to hold face-to-face talks with Vladimir Putin since the Russian president sent his troops into Ukraine.
In a statement released by his office, Nehammer said his primary message to Putin was "that this war needs to end because in war both sides can only lose."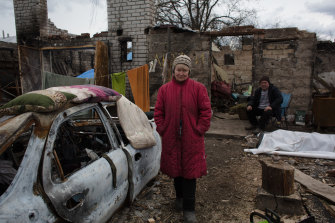 Neutral Austria, which gets 80 per cent of its natural gas from Russia, generally maintains closer ties to Moscow than much of the European Union, but that has not been the case since the Russian invasion. Nehammer's government has joined other EU countries in expelling Russian diplomats and denouncing alleged Russian war crimes in Ukraine.
Biden and Modi
US President Joe Biden asked India's Narendra Modi not to accelerate the buying of Russian oil as the US and other nations try to cut off Moscow's energy income following the invasion of Ukraine. The Indian prime minister made no public commitment to refrain from Russian oil, a source of tension with the US.
Meeting by video call, Biden told Modi that the US could help India diversify its energy sources, according to press secretary Jen Psaki. Even though India receives little of its oil from Russia, it stepped up recently with a major purchase as other democracies are trying to isolate Putin.
"The president also made it clear that he doesn't believe it's in India's interest to accelerate or increase imports of Russian energy or other commodities," Psaki said.
While the two nations ended the meeting with Biden saying they committed to strengthening their relationship, White House officials could not say if India stood with them in full condemnation of Putin, saying the choice ultimately rested with Modi's government.
The two leaders will meet in person May 24 in Tokyo for a summit of the Quad, a coalition that also includes Australia and Japan.
India's neutral stance in the war has raised concerns in Washington and earned praise from Russian Foreign Minister Sergey Lavrov, who lauded India this month for judging "the situation in its entirety, not just in a one-sided way."
A senior US official described the Biden-Modi exchange as warm and productive, although the official stressed that India would make its own decisions on how to respond to Putin. The official insisted on anonymity to discuss the meeting.
Russia focuses on the east
On the ground in Ukraine, questions remained about the ability of depleted and demoralized Russian forces to conquer much ground after their advance on Kyiv was repelled by Ukrainian defenders.
Loading
Britain's Defense Ministry said on Monday that Ukraine had already beaten back several assaults by Russian forces in the eastern Donetsk and Luhansk regions – which make up the Donbas – resulting in the destruction of Russian tanks, vehicles and artillery.
Western military analysts say Russia's assault is increasingly focusing on an arc of territory stretching from Kharkiv, Ukraine's second-largest city, in the north, to Kherson in the south.
A residential area in Kharkiv was struck by incoming fire on Monday afternoon. At least five people were killed, including a child.
Oleh Synyehubov, the regional governor of Kharkiv, said that Russian shelling killed at least 11 people in the previous 24 hours.
AP, Reuters