Skid steers, mini excavators and other compact equipment and attachments are getting digital makeovers to keep pushing the productivity curve of today's mighty mini machines. The largest skid steers are pushing 6,000 lbs. of rated operating capacity with more than 110 hp, and uptake of digital grade-control technology with these production monsters has encouraged manufacturers to dive deeper into a new range of computerized attachments and automated control refinements.
"Thinking back 15 or 20 years in the small skid steer loader market, they never thought they would be running with the large stuff. Skid steers always kind of had their place on ranches and with landscapers and such," says Bob Shoop, attachment demonstrator and trainer with Caterpillar's Building Construction Products group. "Our machines have gotten so big and powerful and so advanced, and technology has become such a huge factor that we are creating a wave – we are making digital work tools that are game-changers."
Automating creep work
The latest generation of compact-machine automation comes with digitally controlled creep speed features for skid steers and compact track loaders inspired by new cruise control features on today's automobiles.
State of the art for creep control used to be that an operator could set a very slow, ground speed when using a ground-engaging attachment such as a cold planer, trencher or snow blower, and the loader's drive system would hold the machine at that ground speed. The operator would have to manually adjust ground speed or tool depth to avoid stalling the tool when encountering tougher working conditions.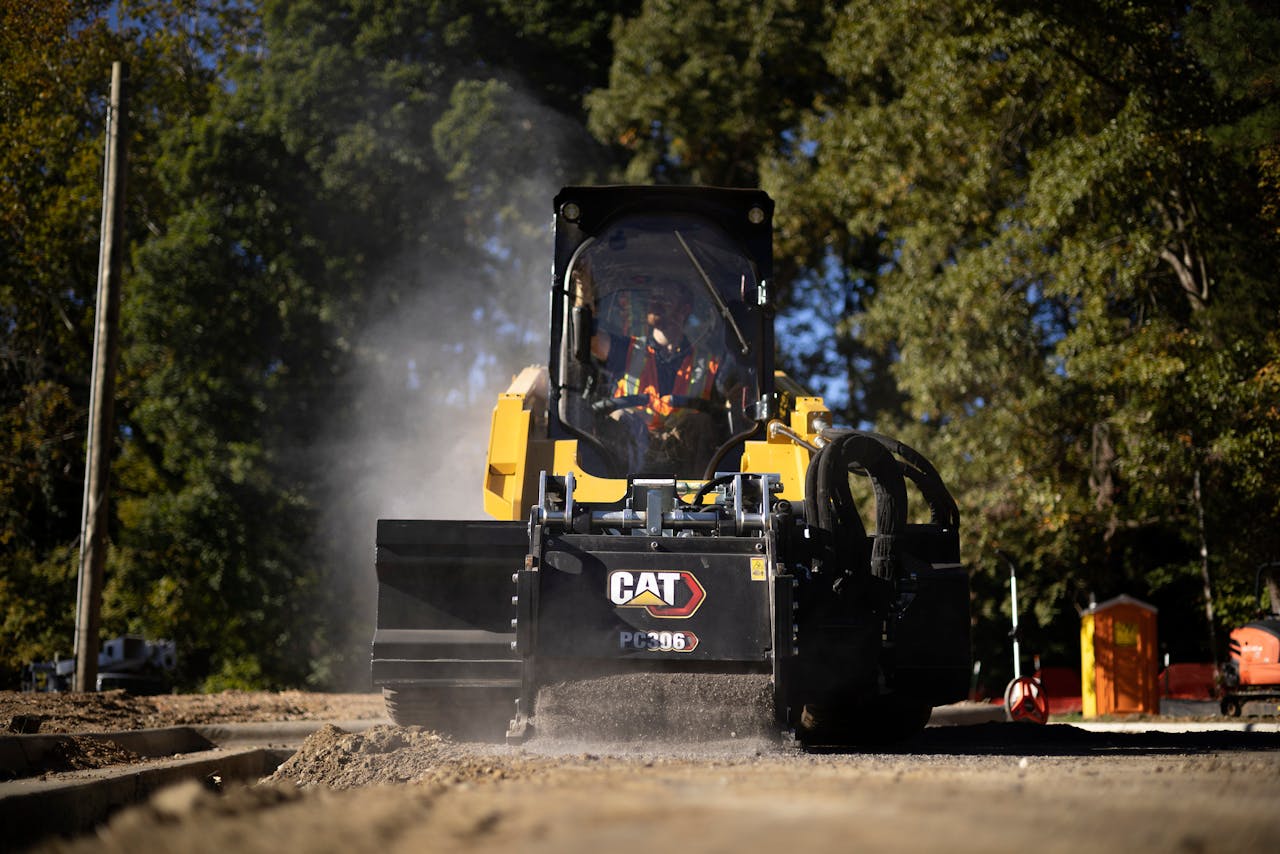 Caterpillar Inc."We've made a system that's very similar to adaptive cruise control in a car," says Daniel Cohen, product application specialist with Caterpillar BCP Attachments. "Essentially what it'll do is modulate the drive command for you based on how much load is on the attachment."
A kit to update third-generation Cat cold planer attachments gives Cat D3 Series skid steer and compact track loaders the ability to receive information from load sensors on the tool. The loader's control unit can then adjust ground speed as grinding conditions change to automatically maintain optimum rotor speed. Cat will expand availability of the Smart Creep interface to all of its work tools with which an operator would normally use creep speed.
Smart Creep is activated like any of the other smart attachments coming on the market. On startup, a D3 loader will recognize a properly equipped cold planer attached to it and offer the operator a screen on the loader's display for Smart Creep. The screen displays all the working parameters pertinent to milling, along with a pressure gauge.
"When you're running the attachment, you want to keep the (pressure-gauge) needle in the green – that's where you're most productive. Smart Creep's going to keep that needle in the green for you," says Cohen. "If you do run up against a condition where the tool stalls, we also have the ability for Smart Creep to automatically stop the machine, back up a little bit, get the tool spinning again and then reengage, all without the operator having to adjust the drive command." 
"Where you have an operator that is maybe less experienced, it'll help him prevent stalling the tool and make them more productive. If you have an experienced operator, it's going to allow them to relax a little bit more. They're not going to have to focus on manually modulating the drive control."
Smart Creep allows the operator to be more attentive to the work site around the machine, to improve safety and productivity, and to monitor machine working conditions.
Case also enhanced the Creep Speed control on its B-Series skid steers and CTLs to take some of the pressure off operators trying to balance ground speed, tool speed and working load.
Case Creep Speed allows the operator to set a travel speed that the machine will automatically maintain independent of the throttle position. It allows the operator to modulate the throttle to keep the attachment running at optimal speed. This smarter twist on traditional creep speeds doesn't require sensors on the attachment, so it brings advantages to application of any cold planer, trencher, broom or other powered, ground engaging attachment.
Compact attachments feel and think
Computer controllers and sensors mounted on powered attachments such as graders, PAT dozer blades, backhoes and tilt/rotators are changing the compact-equipment experience by integrating automatically with the computer on skid steers and mini excavators to get the most out of electrohydraulic joystick controls in the cab.
"The (Cat Smart Attachment) integration is like a handshake between the tool attachment and the machine on startup – the two are talking to each other. Once the machine has recognized that it has this (Smart Dozer Blade) attachment on there, it's going to ask you what mode you want to select," says Shoop. The question comes up on the monitor in the cab. Choices are Loader Mode, which keeps the joysticks working like you'd expect from a skid steer or CTL, or Attachment Mode, which changes the right joystick from controlling the boom and bucket to being a pretty familiar bulldozer control.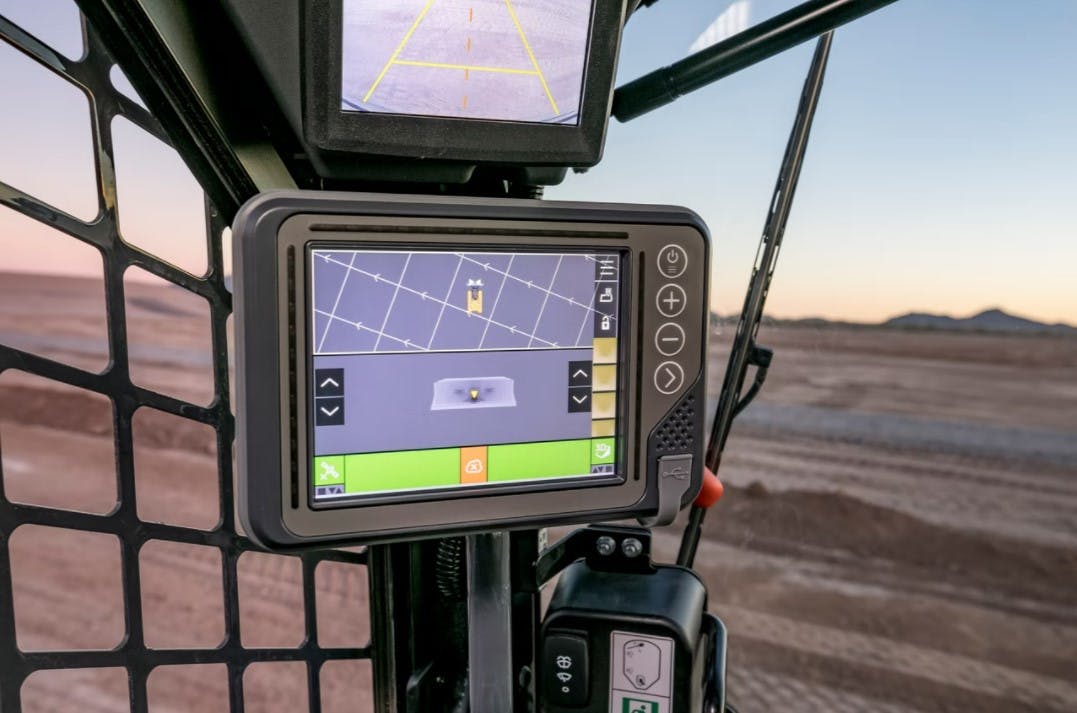 Digital controls on a PAT dozer blade attachment allow grade-indicate displays like this one in John Deere's 333G SmartGrade compact track loader cab.John Deere
"It changes skid-steer control pattern to a more dozer-like control pattern – dozer operators are comfortable operating a compact track loader," says Gregg Zupancic, product marketing manager, skid steers and compact track loaders for John Deere Construction. Like the Cat D3 Series loaders, Deere's SmartGrade 333G compact track loader is available with integrated GPS grade-control technology (no masts or receivers to add to the machine) and a PAT dozer blade that integrates into the loader's controls. Both Deere and Cat dozer attachments integrate all the way through to the grade control system to automate functions like the way Deere and Cat automate crawler tractors' dozer blades.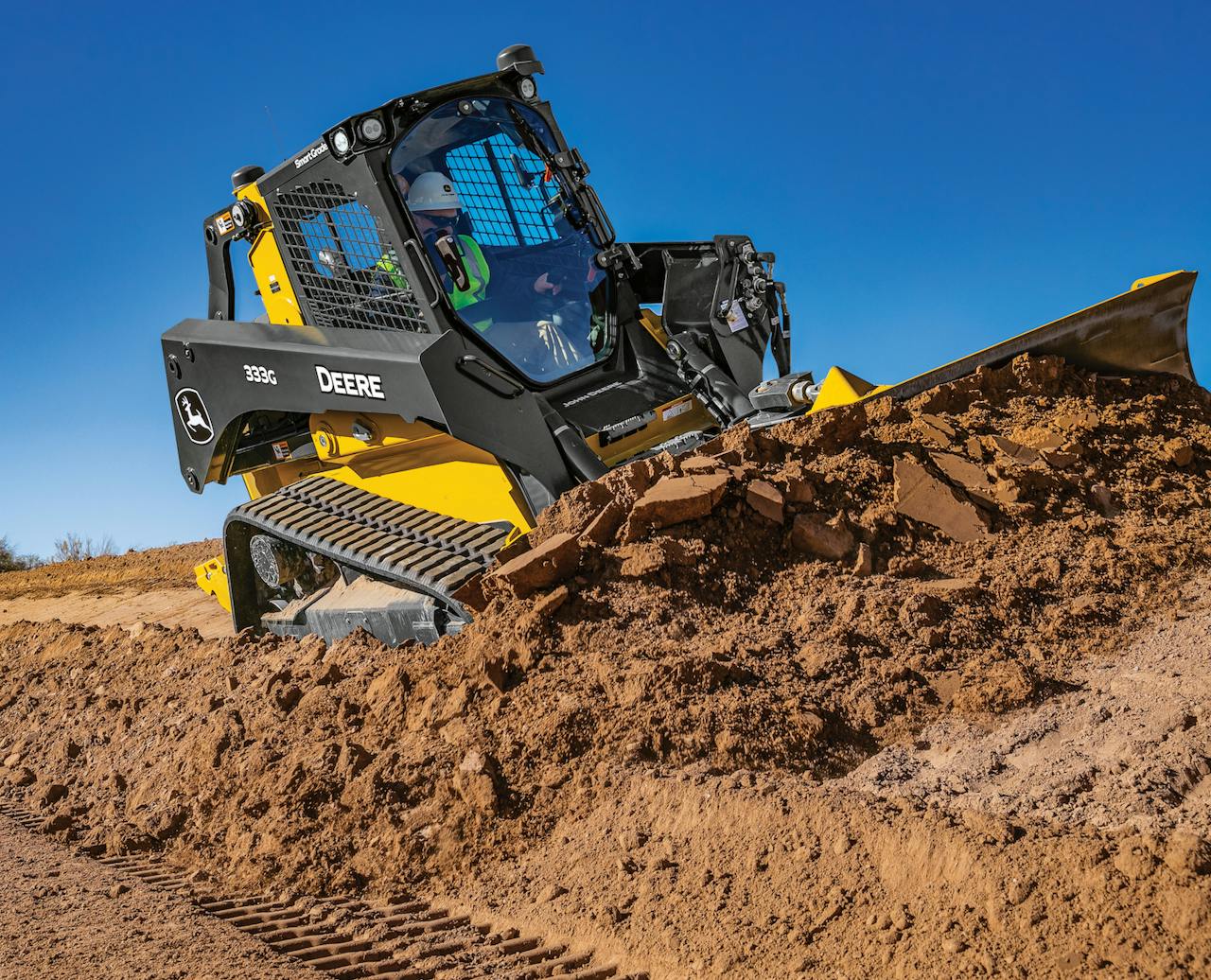 John Deere
The cutting edge on Cat Smart Dozer and Grader attachments will automatically cut to a 3D design loaded into the loader's grade-control system. Loader and excavator grade control works from a GPS or laser reference. But like some other control-automation features available today on full-sized dozers and graders today, there is automation on these smart attachments now that doesn't require a reference signal.
"With the optional IMU (inertial measurement unit) you can add to the carbody of the machine, on your display it will give you an indicate-only of your main fall. It's going to let the operator know 'Hey, I'm running flat, or I'm starting to build a 3% rise, or I'm going down 3%. When you set your cross slope for a 1% or 2% or 3% grade, the blade will follow that (automatically) in the Slope Assist mode," Shoop says of Cat's Smart Dozer. "It makes it so much easier for the operator to make fewer passes. It saves fuel and frustration. Anybody who's run some kind of dozer blade on any type of machine will understand the assist that we're giving here makes it so much easier for a novice as well as a guy that's been in the seat for 20 years.
"We've captured a lot of the Stable Blade technology to automate dozer-blade adjustments in the cut so operators don't have to make as many manual tweaks to get a progressively smoother grade."
An operator can bring the blade to the desired angle and the monitor in the cab will display the slope in degrees. The touch of a button will memorize that slope, and another button will mirror that angle if the operator wants to cut the opposite side of a road crown or ditch.
"Then if I want to go back to grade zero, I just hit the top button twice and it comes back to perfectly level," says Shoop.
What's pushing adoption
Difficulty getting electronic components through today's constricted supply chain notwithstanding, long-term-price trends for controllers and sensors are down and have generally lifted the rising tide of digital technology purchased on compact machines. Meanwhile, processing power and IMU performance is improving. "(Prices have) really dropped because of commoditization," says Murray Lodge, senior vice president and general manager of construction at Topcon Positioning Group. "You are also now able to build IMUs that are more accurate."
These specific advancements allow machines to deliver quality work at faster speeds. "As you start to add load-sensing capability so that you know you are getting too much resistance on the blade — you have too much material — then the blade will automatically come up a little bit," says Lodge. "You don't have to slow down; you can maintain a constant speed."
"When you couple (sensor and IMU advancements) with the extra processing power we have with the ECM (engine control module), we've seen a real big performance improvement," says Cameron Clark, earthmoving industry director for Trimble's civil construction division.
Technology is providing more data and capacity to do more with that data. Grade control systems are recording terrain maps that can easily be turned into as-builts, for example. Maps recorded at strategic points during the project can deliver accurate project progress reports via telematics directly from machines with little additional workflow required.
But if the big machines are the only ones providing project data to the office, a crucial part of digital production-reporting is missing. Instrumenting skid steers, mini excavators and other compact equipment adds closer-to-completion work to a project's data ecosystem.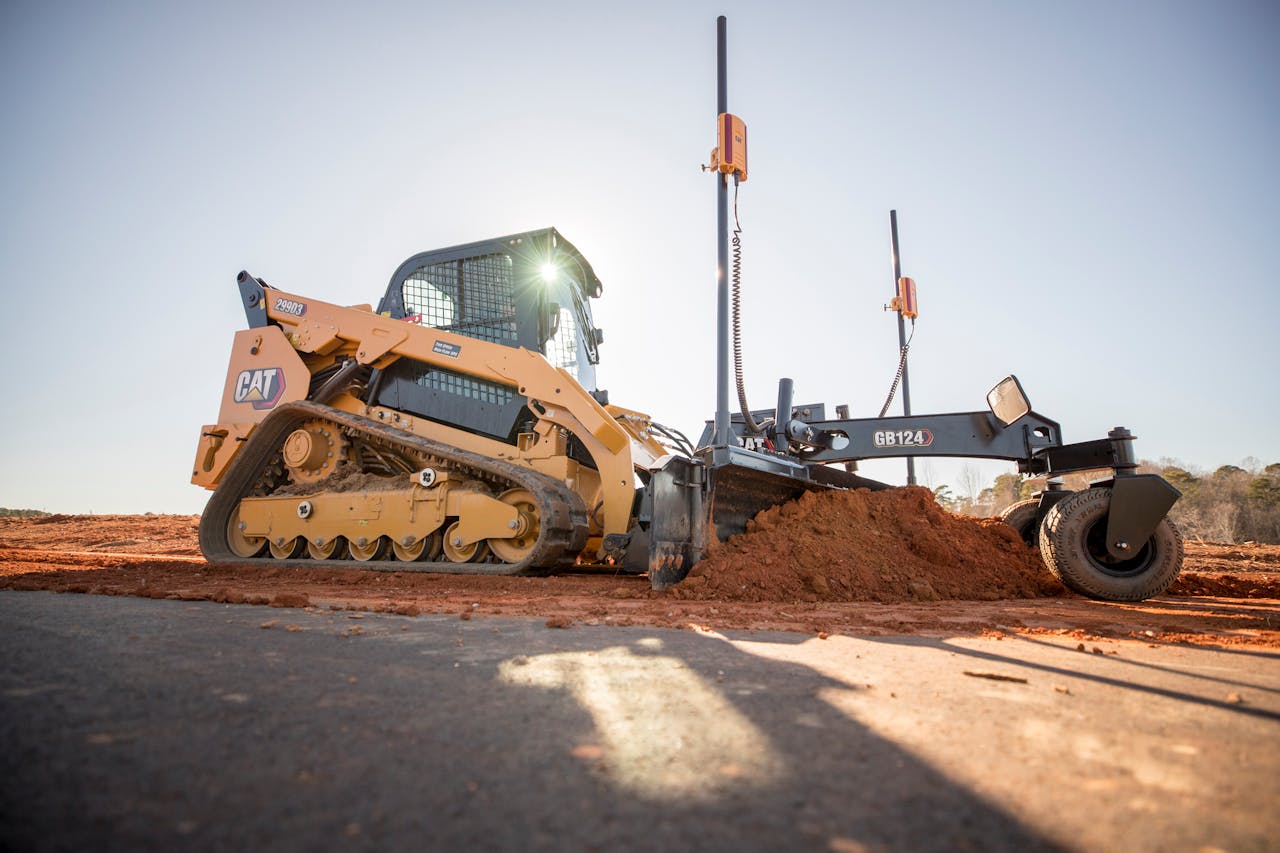 Sensors and processing power mounted on the Cat GB124 Smart Grader allow the attachment to interface with the loader and switch the loader joysticks to control the moldboard, with automation features like those found on full-sized graders.Caterpillar Inc.
"We've seen big improvements with workflows, of getting data to and from the office, being able to manage and understand what's happening on the site remotely," says Clark. It's an advantage whose value dramatically increased during the pandemic.
Machine telematics can send performance data directly to the cloud. "No matter where you are, you can get information by phone, tablet or computer," says Scott Hagemann, senior market professional at Caterpillar. The data is already driving new processes and efficiencies. "We can tie dirt moved to fuel burned, hours worked and trucks loaded. The data allows our customers to make decisions sooner and faster."
So automation features on compact equipment can not only make operators more independently productive with speed and quality, but also the technology behind it can deliver game-changing real-time information to improve project delivery and profitability. Project performance data can drive better decisions to adjust project schedules, project plans, material ordering and deliveries.
The next step in the evolution of machine technology toward automation is likely to be systems that instruct the operator how to complete the task. This may include heads-up displays or augmented reality.
For these advancements to occur, jobsite machines need to be connected. "That's where it has to go to automate the site," says Lodge. "If I have ten pieces of equipment on a site and only two of them have control systems, I can only do so much." When the whole fleet is connected, the machines can work together at a higher productivity level.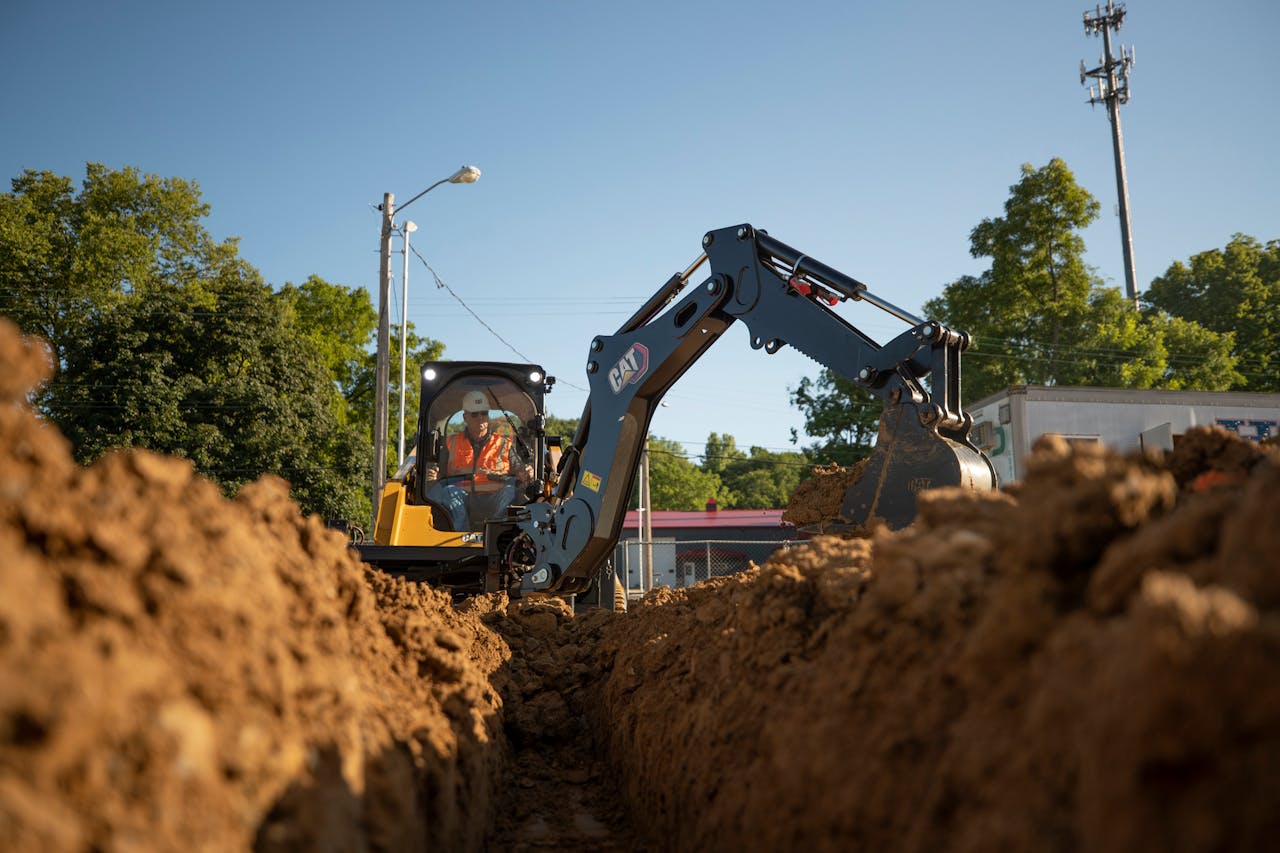 Like other Smart Attachments, digital control on the tool allow the joysticks in a Cat D3 high-flow CTL to run the Smart Backhoe, allowing the operator to choose from excavator or backhoe style control patterns.Caterpillar Inc.